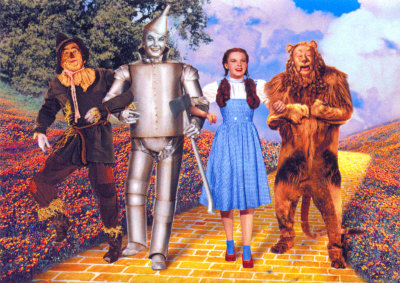 Dorothy's fellow travelers in The Wizard of Oz can remind us of of three business writing priorities that will command reader attention and separate us from the pack.
A Heart.  The Tin Man was looking for a heart, and each of us should strive for a warm, natural style when we write. This doesn't mean protracted greetings that delay getting to the real reason we're writing; it means making sure our messages sound a lot like conversations. If we wouldn't start a conversation with "Pursuant to" or "I am in receipt of," why begin a letter, memo, or email that way?
The writing process, especially the editing phase, enables us to emulate the way we talk––and to show attractive traits like empathy, respect, and humor––while enhancing our message with more precision than we usually achieve in the rapid give-and-take of conversation. Grand language and complicated sentence structure paid off in school, but writing with heart pays off at work.
A Brain.  The Scarecrow wanted a brain, and we'd like to appear brainy in our writing.  If we try to accomplish that with a pretentious vocabulary and dense paragraphs, however, the reader won't be too impressed.  Instead, if we commit ourselves to messages that are well organized, concise, and relatively error-free, we'll look pretty smart.
Courage.  The Cowardly Lion was seeking courage––an attribute we often need to write effectively.  We need the gumption to "keep it simple" when many around us are straining to impress.  If we want to write a short message, we need to remind ourselves that a brief message doesn't necessarily reflect less effort, brainpower, or respect for the reader.  As we strive for a fresher, more natural style, we can't get beaten down by stuffy conventions that others seem to accept.  And if we know some rules that others don't––like the correctness of beginning a sentence with "And"––we need to lead, not follow.
Dorothy thought Oz was a wondrous land, but in the end she decided "There's no place like home."  As writers, we will consistently create clear, concise, compelling messages––with a pleasing tone––if we remain true to the basics and to ourselves.
In addition to presenting workshops on writing in the workplace, Norm Friedman is a writer, editor, and writing coach. His 100+ Instant Writing Tips is a brief "non-textbook" to help individuals overcome common writing errors and write with more finesse and impact. Learn more at http://www.normfriedman.com/index.shtml.