Write Away! Workshops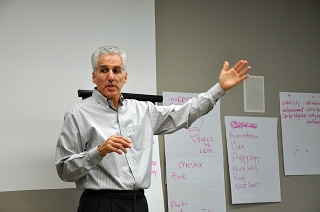 In every survey of business leaders to identify their concerns about employee skills, weak writing appears at or near the top. But too often training budgets do not reflect that concern. This is unfortunate because just a few eye-opening hours can enable employees to reset their writing priorities and discover lasting techniques for writing more effectively and more quickly.
Why do the workshops work?
They help overcome four reasons for weak writing in today's workplace:
Lack of understanding of email effectiveness. Our schooling didn't cover email fundamentals like the importance of a highly useful subject line, a courteous tone, or the need for white space. Just 75 minutes on Secrets of All-Star Emailing can change all that.
Failure to differentiate successful academic writing from successful workplace writing. As readers, most of us want messages that are clear, brief, and natural. Yet, as writers, many of us suppress natural expression and grind out pieces that are too long and stodgy because of leftover perspectives from school. The workshops focus on what we should retain from our school days and what we need to change.
Inadequate backgrounds. Business leaders and educators generally bemoan the poor writing skills of today's high school and college graduates. A society that once prided itself on literate letter-writing and precise knowledge of grammar is now failing to instill that know-how. Tips on the most common errors and misunderstandings immediately help writers reduce mistakes and gain credibility.
The premium on immediacy. Emailing and texting are revolutionary time-savers, but they create expectations about responding right away. Clarity, correctness, and confidence can easily fall victim to this rapid pace.
What do the workshops cover?
You determine that by selecting from a menu of eight topics. You might want a brief session on a single topic or a comprehensive workshop spanning several sessions.
Do you provide any materials as permanent resources?
In addition to exercise sheets and other handouts, workshop participants receive my book, 100+ Instant Writing Tips. The book is based on years of observing common errors and identifying missed opportunities to write more naturally and dynamically.
Do you focus on a particular industry?
I'm a generalist. My clients include global corporations, small businesses, individuals, and a number of nonprofits.
Key Topics
These can be presented individually or in various combinations.
Secrets to All-Star Emailing. We didn't study emailing in school, but for most of us emails are the backbone of our workplace communications. What are a few secrets to composing high-impact emails? How can we use email more efficiently? When is email expedient, and when is it unproductive?
Honing Our Approach. Two failures in our writing can undermine the presentation of a great idea or valuable information: the failure to organize effectively or to use proper tone. This session covers both of those problems while illuminating the distinctions between successful writing in school and at work.
Brevity. While we recognize the virtue of conciseness, many of our emails, letters, proposals, and memos wind up longer than we expected. What are some mechanical methods for cutting the fat, and what are the psychological issues at play?
Clearly, Clarity Is Paramount. If our most fundamental objective in business writing is transmitting our ideas with clarity to our readers, what are the chief reasons we sometimes fall down on the job—and how can we overcome those pitfalls?
Picking the Right Word. What are some of the most commonly misused words in our language? This session reveals a number of surprises about correct usage in an entertaining way.
Reviewing the Fundamentals. Many of us feel unconfident handling certain grammar and punctuation situations—or we're not even aware of holes in our understanding. Not to worry. This session clears up a host of commonly misunderstood rules and invites your questions about whatever ails you.
Turning Drab into Dynamic. Routine messages can be more compelling than you might think. Enhancing mundane communications with strong verbs and precise vocabulary are just two of many paths to writing with more power and finesse.
Editing and Proofing Your Own Work. We can all relate to regrets about sending an email prematurely or mailing a letter we should have proofed one more time. Wouldn't a handy checklist to help us polish every important message be an invaluable writing aid?
I can't believe I'd ever say a writing workshop was fascinating, but your session was that plus enlightening and entertaining. Our staff now understands the importance of clarity and brevity, and they are motivated to work toward that in their writing. We learned how to write emails that capture attention. We've started commenting on each other's writing, and I suspect that's the beginning of continually improving our writing.
– Carol Rivchun, President
Youth Opportunities Unlimited
I've never had more positive feedback from staff on a professional development workshop. It's really gotten people thinking about how they are communicating.
– Leslie Prusinski, Manager, Library Partner Services
OverDrive
Evaluation Excerpts
I have found Norm's knowledge of his subject matter to be unsurpassed. He is an enthusiastic instructor who obviously revels in helping people improve their written communication skills.
I have participated in several training sessions here. While all have been beneficial, this seminar was the most immediately relevant to my job. I think this should be a requirement for all employees.
I learned more in three hours than I did at a two-day seminar in Atlanta last year.
Engaging and well-paced. Answered many questions I have had over the years. Fun!
I found all the sessions valuable. The time flew by much too quickly.
Terrific brush-up––not remedial. The inverted pyramid was a new concept to me.
I found Norm to be one of the best speakers/facilitators I have ever encountered. He made the workshop fun while giving us useful information we could apply immediately.