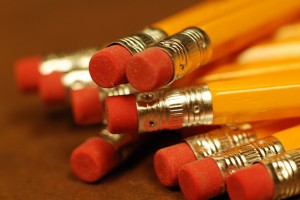 On the right you have access to close to 150 brief posts from my blogging phase. They reflect my desire to clear up many of the common misunderstandings and commonly missed opportunities I see in workplace writing—without making you feel that you are rereading a schoolbook.
In your spare time you can browse this free library by starting with September 2014, focusing on an area of particular interest—such as common grammar errors or flair & finesse—or picking a date at random.
A number of the posts contain quick quizzes similar to the one below. Enjoy!
Spot mistakes and extra words in the following sentences.
Our neighbors, the Parker's now have less trees in back because of the wicked storm.
Lead by Paula, we are collaborating together in an effort to revamp our interviewing process.
Patsy and Pete both attended the same seminar, they said it was "just alright".
Answers
A) We're not making "Parker" possessive; we're just making it plural. All "Parker" needs is an "s."
B) We need a comma after "Parkers."
C) Because the trees are individual items, we want "fewer," not less. So we might end up with this: Our neighbors, the Parkers, now have fewer trees in back because of the wicked storm.
A) "Lead" should be "Led."
B) "Collaborating together" is redundant.
C) Instead of "in an effort to," all we need is "to." So we might end up with this: Led by Paula, we are collaborating to revamp our interviewing process.
A) Using "both" with "same" is redundant.
B) The comma should be a period or semicolon.
C) "Alright" is not standard English; we want "all right."
D) The period should go inside the quotation marks. (Periods and commas always go inside quotation marks in American English.) So we might end up with this: Patsy and Pete both attended the seminar; they said it was "just all right."