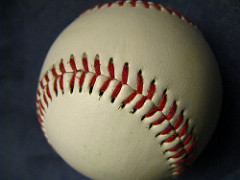 With the Cleveland Browns now winless in 12 games, let's reflect, mercifully, on the Indians' run all the way to the seventh game of the World Series. This was accomplished despite a relatively paltry payroll, as noted in a Nov. 20 piece in The Plain Dealer. What would you refine in this excerpt, in which I am numbering the six short sentences?
(1) The Indians ranked 22nd in payroll at $98 million. (2) They were the only team outside of the top 15 in payroll to even make the playoffs.
(3) There are 30 MLB teams. (4) Besides the Tribe, the only other team outside the top 15 payroll to even have a winning record was Houston.
(5) So the 23rd-ranked Tribe and 24th-ranked Astros were the only two winning teams not in the top half in payroll. (6) Only the Tribe played in the postseason.
Yikes. This is why our teachers instructed us to proof our work. Here are my main objections – in addition to the clumsy lack of flow:
• (1 & 5) So did the Tribe rank 22nd or 23rd? (We'll call the rank 23rd.)
• (2 & 4) How can outside of and outside, used the same way, both be correct? Regular readers of my blog know that of is almost always wrong after another preposition, but that outside of has a special use. It means except or except for, as in Outside of Zeke, everyone liked the movie. But here the point is that the Tribe fell outside the top 15 in payroll.
• (2) Why even make the playoffs? That makes no sense. Earning a spot in the playoffs is not a marginal achievement; it is every team's goal at the start of the season.
• (3) The fact that Major League Baseball comprises 30 teams should be established at the beginning, as context for the Tribe's rank.
• (4) Oops. We need in before payroll, and, again, even doesn't make sense.
• (5) Everything here, except that the Astros ranked 24th, was just stated in the previous sentence.
• (5) Wouldn't not in the top half be more gracefully conveyed as in the bottom half?
• (6) We already learned that in (2).
Now let's correct, polish, and cut the 78 words to 42.
Of 30 MLB teams, the Indians ranked 23rd in payroll at $98 million and were the only team outside the top 15 to make the playoffs. The only other team in the bottom 15 with a winning record was Houston, ranked 24th.
You can go to http://www.normfriedman.com/index.shtml to learn more about my workshops on writing in the workplace, individual coaching, editing, and handbook – 100+ Instant Writing Tips. Thank you.